The Byrnes Team -
Over $100 Million
in Sales
Helping You Make Your
Best Real Estate Decisions

STANFORD CAMPUS
Buying and/or selling homes on Campus at Stanford is a unique market with certain restrictions and a "pulse" of its it own. The Byrnes Team has an unparalleled level of market share specifically selling on-campus housing, selling over 63 homes on the Stanford campus alone.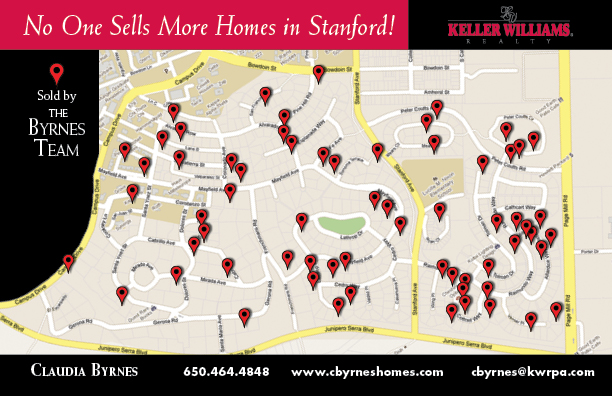 This inside knowledge of schools, neighborhoods, and community, is something The Byrnes Team knows well and understands. "Living "on campus" is a unique living experience and a lifestyle conducive to bike riding, running, walking trails, SCRA, block parties and a true sense of community—it's like a city within a city", says Claudia Byrnes.
Click here to schedule an appointment to meet with me personally about buying or selling a home on Stanford Campus.